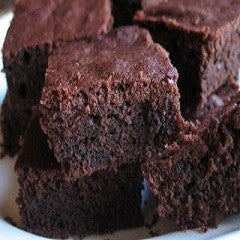 Alto Grande Chocolate Brownies Recipe
---
Ingredients:
2/3 cup butter

3oz unsweetened chocolate

1/2 cup semi-sweet chocolate

1 3/4 cup sugar

2 tsp vanilla

1/4 cup alto grande coffee

3 eggs

1 cup all purpose flour

1 cup pecans (optional)
Procedure:
Preheat oven at 350 degrees. Grease a 9 x 9 pan. Heat the butter and chocolate over low heat, stir occassionally until all is melted. Turn off the heat and cool slightly. Beat sugar, vanilla and eggs for a good 5 minutes, Beat in chocolate mixture on low speed and then add the ground coffee, Beat in the flour until just blended (If you use nuts add now). Spread in the pan and bake for 40 minutes.
---
Share this Product
---
More from this collection
Liquid error (layout/theme line 443): Could not find asset snippets/spurit_uev-theme-snippet.liquid