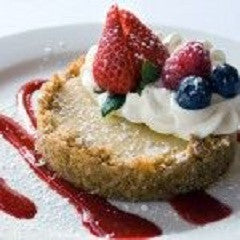 Alto Grande Mocha Cheesecake Recipe
---
Ingredients:
2/3 cup butter

3oz unsweetened chocolate

1/2 cup semi-sweet chocolate

1 3/4 cup sugar

2 tsp vanilla

1/4 cup alto grande coffee

3 eggs

1 cup all purpose flour

1 cup pecans (optional)
1 cup crushed chocolate cookies

3 tsp melted butter
Cheesecake
32oz cream cheese

8 eggs 

2 cups melted semisweet chocolate chips

1 tsp lemon juice

1 tsp vanilla extract

1 1/2 cup sugar 

1 cup of strained alto grande coffee 
Raspberry Sauce
1 bag raspberries

1/2 cup sugar 

1 tsp lemon juice
Procedure:
Mix the sauce ingredients and cook until there is not much juice left. Take out of stove. Mix the crust ingredients and place in tray and compact until a base is created. Mix the cream cheese with eggs in the food processor until blended. Add the chocolate, strained coffee, lemon juice, vanilla and sugar and blend. Pour the mix on crust. Bake to 300 degrees for an hour. Let cool, strip, decorate and serve with the raspberry sauce.
---
Share this Product
---
More from this collection
Liquid error (layout/theme line 443): Could not find asset snippets/spurit_uev-theme-snippet.liquid