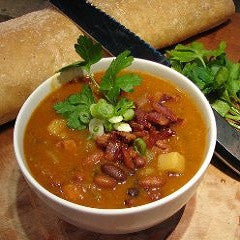 Beans and Bacon Soup Recipe
---
Ingredients:
4 bacon slices, cut in squares
1 garlic clove, minced 
1 onion, chopped 
4 celery stalks, chopped
4 cup chicken stock
2 cup beans
1/2 tsp dry thyme
4 carrots, chopped 
4 oz tomato paste
Salt to taste
Pepper to taste
1 tbsp wine vinegar
Procedure:
Saute de bacon, garlic, onion, celery and for about 10 minutes. Add stock, beans, thyme, chopped carrots and tomato paste. Simmer uncovered for one hour, add the salt, pepper and wine vinegar before serving.
---
Share this Product
---
More from this collection
Liquid error (layout/theme line 443): Could not find asset snippets/spurit_uev-theme-snippet.liquid