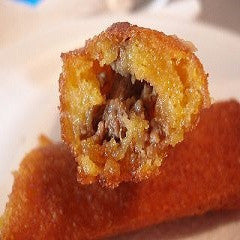 ---
Ingredients:
1 1/2 lbs yautia
3 green plantains
3 tbsp anniato oil (achiote)
1 tbsp salt
2 cups cooked beef filling 
Frying oil
Procedure:
Peel the yautias and the plantains. Grate the yautías and plantains to a fine paste. Add anniato oil and salt. Stir well. Place about two tbsp of the paste on a greased plantain leaf (traditional) or waxed paper (convenient). Spread the mass and place about two tbsp of the filling in the center. Fold the mass unto itself so that the mass remains outside and the filling inside. Fry in hot oil in a deep frypan until golden brown. Drain on paper towel to remove excess oil and serve. 
---
Share this Product
---
More from this collection
Liquid error (layout/theme line 443): Could not find asset snippets/spurit_uev-theme-snippet.liquid