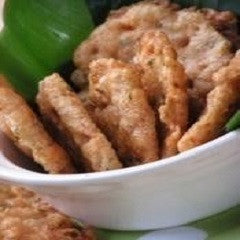 Bacalaitos, Cod Fritters Recipe
---
Ingredients:
1 lb salt cod fish 
2 cups flour
2 tsp baking powder
1 tsp adobo with pepper
2 cups water
1 tsp minced garlic clove
2 tsp cilantro
Salt to taste
Pepper to taste
oil (for frying)
Procedure:
Desalt the codfish by soaking it in cold water overnight in the refrigerator, change the water at least 3 times. In a saucepan, cover codfish with water, bring to a boil and simmer for 10 minutes. Cool, remove skin and bones. Shred the fish. In a bowl make a batter by whisking together the flour, baking powder, adobo and water. When smooth, mix in garlic, cilantro and shredded fish. Season to taste with salt and pepper. In a skillet, heat 1/4" of oil on medium heat. Drop the batter by spoonfuls into hot oil and cook until golden brown on both sides. Drain on paper towel to remove excess oil and serve.
---
Share this Product
---
More from this collection
Liquid error (layout/theme line 443): Could not find asset snippets/spurit_uev-theme-snippet.liquid