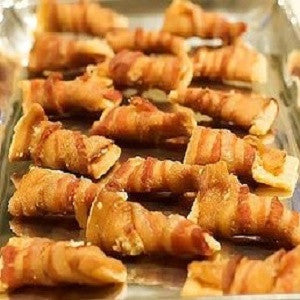 ---
Ingredients:
8 slices bacon 
2 medium onions, sliced 
12 slices white bread, quartered 
1/2 pound swiss cheese, shredded
8 eggs 
4 cups milk 
1 1/2 tsp salt
1/4 tsp pepper
1 dash red pepper sauce
Procedure:
Cook bacon until crisp, remove from pan, drain and crumble. In bacon drippings cook onions until soft. Arrange half the bread slices in a single layer in bottom of greased pan. Sprinkle all the crumbled bacon, onions and cheese. Top with the other half of the bread. Combine remaining ingredients, pour over top layer. Bake at 375 degrees until mixture is set and top is puffed and golden, about 50 minutes. The recipe can be halved and baked in an 8 inch square pan for about 40 minutes.

---
Share this Product
---
More from this collection
Liquid error (layout/theme line 443): Could not find asset snippets/spurit_uev-theme-snippet.liquid