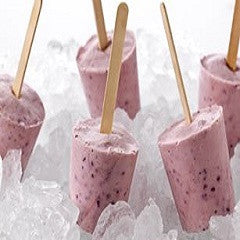 Banana Berry Treats Recipe
---
Ingredients:
1/4 cup milk

3/4 cup thawed cool whip

5oz greek-style yogurt

1/2 cup fresh strawberry

1/2 small banana

1/4 cup blueberries
Procedure:
Blend ingredients in blender on high speed until smooth. Pour into 3oz paper cups, cover with foil. Insert wooden pop stick into center of each cup. Freeze and peel off paper cups just before serving.
---
Share this Product
---
More from this collection
Liquid error (layout/theme line 443): Could not find asset snippets/spurit_uev-theme-snippet.liquid