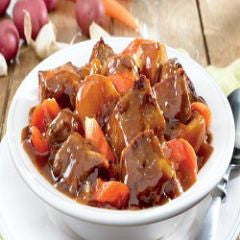 ---
Ingredients:
1 tbsp vegetable oil
2 lbs round steak, cut into 1-inch cubes
2 green bell peppers, chopped
2 onions, chopped
4 garlic cloves, chopped
1/4 cup cilantro leaf, chopped
2 tbsp vinegar
1 tsp oregano, dried
1 cup tomato sauce
3 bay leaves
Salt to taste
Pepper to taste
1/2 lb carrot, cut into 1-inch pieces
1/2 lb potato, peeled and cut into 1-inch cubes
1 cup frozen peas
1/2 cup pimento stuffed olives
1/4 cup raisins
Procedure:
Heat the vegetable oil in a large, heavy oenproof pot over moderate heat and brown the meat. Add the peppers, onions, garlic, cilantro, vinegar, oregano, tomato sauce, bay leaves, salt and pepper and bake covered for 1 hour at 325 degrees F. Add the carrots and potatoes and bake 1 hour at 300 degrees F, or until the meat is tender. Add peas, olives, raisins and simmer an additional 15 minutes.
---
Share this Product
---
More from this collection
Liquid error (layout/theme line 443): Could not find asset snippets/spurit_uev-theme-snippet.liquid