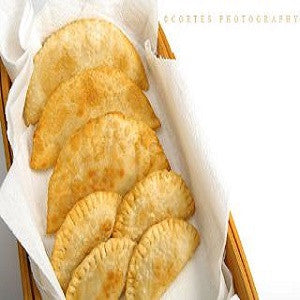 Beef Turnovers, Empanadillas de Carne Recipe
---
Ingredients:
1 lb ground beef 
1 tbsp olive oil 
2 tbsp recaito 
1 packet sazon with coriander and annatto 
adobo seasoning
hot sauce to taste
24 frozen turnover dough 
oil for frying
Procedure:
In a skillet, saute oil, recaito, sazon and adobo. Mix well. Break up meat and add to skillet. Cook until browned. Add hot sauce if desired. On a floured surface, place the turnovers, fill each with a tablespoon of meat. Wet the edge of the turnovers, fold over and seal with a fork. Fry in about a cup of cooking oil. Flip when golden brown.
---
Share this Product
---
More from this collection
Liquid error (layout/theme line 443): Could not find asset snippets/spurit_uev-theme-snippet.liquid