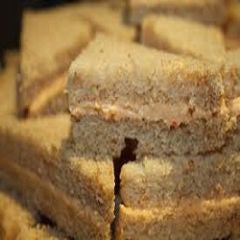 Birthday Sandwich, Sandwich de Mezcla Recipe
---
Ingredients:
1 can 12oz luncheon meat (such as SPAM)

1 can 16oz cheese sauce (such as Cheez Whiz)

4oz pimientos peppers with liquid

3/4 cup mayonnaise

30 slices white bread

1 tsp parsley
Procedure:
Place luncheon, cheese sauce, pimientos, and mayonnaise in a blender, pulse to blend into a smooth mixture, stopping often to scrape down blender sides. Transfer spread to a bowl. Spread the mixture onto 15 slices of white bread, top each with another slice of bread. Press sandwiches together lightly and cut off crusts. Slice sandwiches in half diagonally to make triangles, sprinkle sandwiches with parsley flakes and serve.
---
Share this Product
---
More from this collection
Liquid error (layout/theme line 443): Could not find asset snippets/spurit_uev-theme-snippet.liquid