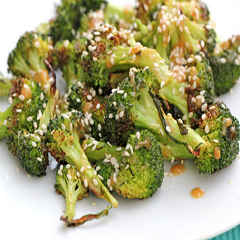 Broccoli and Cheese Recipe
---
Ingredients:
1 lb broccoli
Salt to taste
Pepper to taste
Olive oil to taste
1/2 cup grated cheddar/monterrey cheese
1/4 cup crushed bread
Procedure:
Cook the broccoli in a saucepan with boiling salted water for 2 min. Then remove and cool in ice water, drain and season with salt, pepper and a little olive oil. Place on a baking sheet, add the cheese and the bread crumbs on them and broil in the oven in high until the cheese is melted and well browned.
---
Share this Product
---
More from this collection
Liquid error (layout/theme line 443): Could not find asset snippets/spurit_uev-theme-snippet.liquid