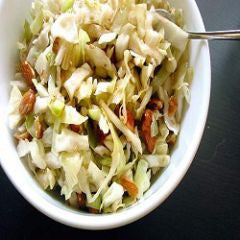 Cabbage Salad, Ensalada de Repollo Recipe
---
Ingredients:
7 cups green cabbage, thinly sliced
1/2 cup carrot, grated
2 tbsp onions, finely chopped
1 tbsp fresh cilantro, minced
1/4 cup fresh lime juice
1 tbsp cider vinegar
1 1/2 tsp olive oil
1/4 tsp salt
1/4 tsp pepper
Procedure:
Combine the cabbage, carrot, onions and cilantro in a large bowl. Combine lime juice, cider vinegar, olive oil, salt, pepper and stir well with a whisk. Drizzle juice mixture over cabbage, toss well to combine. Cover and chill 15 minutes.
---
Share this Product
---
More from this collection
Liquid error (layout/theme line 443): Could not find asset snippets/spurit_uev-theme-snippet.liquid