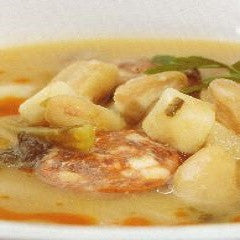 Caldo Gallego Soup Recipe
---
Ingredients:
4 pkg powdered chicken bouillon
8 cups water 
2 chorizos, sliced 
3 potatoes, cubed 
3 turnips, peeled and sliced
1/2 lb smoked ham, diced 
1/2 lb fresh broccoli, chopped 
1 medium onion, sliced 
1 can goya white beans, undrained 
1/2 tsp adobo seasoning
1 pkg sazon without annato
Procedure:
In a large pot on medium high, combine chickenbouillon, water, chorizo, potatoes, turnips, ham, broccoli and onion. Bring to a boil, reduce heat and simmer, uncovered for 50 minutes. Stir in beans, adobo and sazón. Simmer, covered, for 10 minutes, or until potatoes are tender.
---
Share this Product
---
More from this collection
Liquid error (layout/theme line 443): Could not find asset snippets/spurit_uev-theme-snippet.liquid