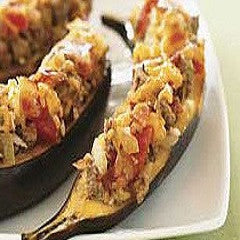 Canoa de Platano, Plantain Canoe Recipe
---
Ingredients:
8 ripe plantains
2 1/2 cups cooked ground meat
Frying oil 
1/4 lb grated cheddar cheese
Procedure:
Peel the plantains carefully to make sure they do not break. Preheat the oven to 350 degrees. While the oven preheats, fry the plantains in enough oil to cover them. Be careful while handling so that plantains do not break. Remove from the oil when golden brown. Soak off excess oil by draining on paper towels. Slit each plantain lengthwise, about an inch from each end, half as deep as the plantain's circumference. Place about two tbps of the filling inside the slit in each plantain. Place the plantains side by side in an ovenproof dish. Spread the ground cheddar cheese over the filling. Bake in the oven for around ten minutes.
---
Share this Product
---
More from this collection
Liquid error (layout/theme line 443): Could not find asset snippets/spurit_uev-theme-snippet.liquid