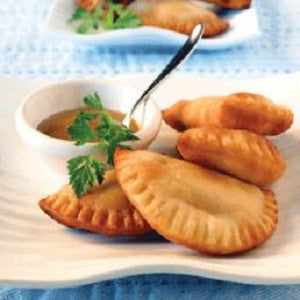 Cheese and Guava Turnovers, Empanadillas de Guayaba y Queso Recipe
---
Ingredients:
Guava paste cut into 1 inch cubes

Sharp cheddar cheese cut into 1 inch cubes

24 frozen turnover dough 
oil for frying
Procedure:
On a floured surface, place the turnovers, fill each with a few cubes of guava and chesse. Wet the edge of the turnovers, fold over and seal with a fork. Fry in about a cup of cooking oil. Flip when golden brown.
---
Share this Product
---
More from this collection
Liquid error (layout/theme line 443): Could not find asset snippets/spurit_uev-theme-snippet.liquid