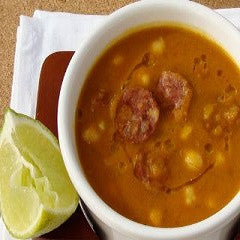 Chick Peas Soup, Sopa de Garbanzos Recipe
---
Ingredients:
2 tbsp olive oil
4 garlic cloves, minced 
4 chorizos, cut into 1/4 inch slices
8 oz tomato sauce
1/2 cup sofrito
1 pkg sazon with annatto
2 can chick peas, drained and rinsed 
2 cups water 
1 pkg powdered chicken bouillon 
1 tsp adobo seasoning 
Procedure:
In a 4-quart saucepan, heat oil over medium heat. Add garlic, chorizo, tomato sauce, sofrito and sazón and cook for 5 minutes, stirring often. Add garbanzos, water and chicken bouillon and bring to boil. Lower heat and simmer, uncovered, for 25 minutes or until it reaches desired consistency. Season with adobo. Serve with white rice on the side.
---
Share this Product
---
More from this collection
Liquid error (layout/theme line 443): Could not find asset snippets/spurit_uev-theme-snippet.liquid