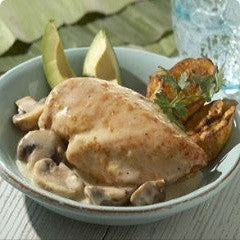 Chicken in Cream Sauce Recipe
---
Ingredients:
4 chicken breasts
1 chicken bouillon cube
1 cup boiling water
1/4 tsp ground pepper
1/2 cup butter, divided
1 cup sliced mushrooms
1/4 cup all-purpose flour
1/4 cup evaporated milk
2 tbsp chicken broth
Procedure:
Dissolve bouillon in the boiling water. Stir in pepper, reserve. Melt 2 tbsp of butter in a large skillet over medium-high heat. Add chicken breast and sauté 2 minutes per side until brown. Remove chicken from skillet and set aside. Cook mushrooms in skillet until tender, remove from skillet, reserve. Melt remaining 2 tbsp butter with the flour in the skillet, stirring constantly until the flour turns lightly brown. Gradually and slowly add reserved broth mixture into the flour, stirring constantly until smooth. Stir in milk and add reserved chicken to skillet. Cover. Reduce heat to low and simmer for 15 minutes. Stir in reserved mushrooms. Cook 5 more minutes or until chicken is fully cooked.
---
Share this Product
---
More from this collection
Liquid error (layout/theme line 443): Could not find asset snippets/spurit_uev-theme-snippet.liquid