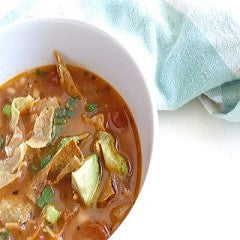 Chicken Soup, Sopa de Pollo Recipe
---
Ingredients:
2 chicken breast halves with bones
1 onion, chopped
2 garlic cloves, chopped
1/2 jalapeño chile, chopped
1/2 cup cilantro leaves, chopped
3 1/2 cup chicken broth 
3 cup water
4 avocados slice 
2 tbsp fresh lime juices
Salt to taste
Procedure:
 Remove and discard skin from chicken. In a 3-quart saucepan cook chicken with onion, garlic, jalapeño,1 tbsp cilantro, broth, and water at simmer until just cooked through, about 15 minutes. Transfer chicken to a cutting board and shred meat, discarding bones. Pour broth mixture through a fine sieve into a bowl and return to cleaned pan.  Add chicken to broth and heat over moderate heat until hot. Peel avocados and cut flesh into 1/2-inch cubes. Add remaining cilantro, avocado, lime juice, and salt to taste. 
---
Share this Product
---
More from this collection
Liquid error (layout/theme line 443): Could not find asset snippets/spurit_uev-theme-snippet.liquid