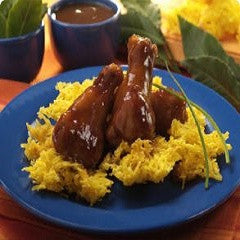 Chicken Wings with Tamarind Sauce Recipe
---
Ingredients:
2 lb chicken wngs
Salt to taste
Pepper to taste
1 cup tamarind concentrate
1/2 cup sugar
1/2 cup sweet red wine
1 cup chicken broth
3 laurel leaves
4 tbsp honey
1/4 cup vegetable oil
Procedure:
Mix tamarind concentrate with sugar, wine, chicken broth and laurel leaves, heat and bring to a boil. Separately, in a pan with oil, brown chicken wings on both sides. Pour tamarind sauce and honey over the chicken wings and cook until sauce is reduced.
---
Share this Product
---
More from this collection
Liquid error (layout/theme line 443): Could not find asset snippets/spurit_uev-theme-snippet.liquid