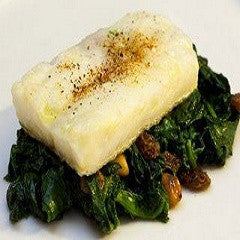 Codfish with Spinach, Bacalao con Espinacas Recipe
---
Ingredients:
2 lb fresh codfish, fillets
1 cup all purpose flour 
2 tsp black pepper 
2 cups corn oil 
3 tbsp olive oil 
1/3 cup sliced almonds 
10 prunes, pitted and chopped 
10 oz spinach
Procedure:
Combine the flour and pepper on a plate. Cut the codfish into 2 to 3-inch pieces and coat lightly with flour. Heat the corn oil in a skillet and fry the codfish until golden brown on both sides and set aside. In another pan, heat the olive oil and saute the almonds until lightly browned. Add the prunes and spinach and saute for about 5 minutes. Serve the codfish on top of the spinach.
---
Share this Product
---
More from this collection
Liquid error (layout/theme line 443): Could not find asset snippets/spurit_uev-theme-snippet.liquid