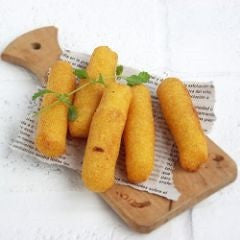 Cornsticks, Sorrullitos Recipe
---
Ingredients:
2 cups cold water

1 tsp salt

1 tbsp garlic powder

1 tbsp onion powder

2 tsp adobo

1 1/2 cups yellow cornmeal

2 cups mild cheddar cheese, grated

vegetable oil
Procedure:
Place water, salt, onion powder, garlic powder, and adobo into a sauce pan. Bring to a boil, lower heat, add cornmeal slowly, stir to avoid creating lumps. Keep stirring and continue cooking on low heat. Remove from heat, add the cheese and blend well. Allow to cool for 15 minutes. Put a teaspoon of the mixture in the palm of your hand. Place on flat surface, roll into sticks. Place the corn sticks on a tray, cover with wax paper and put in refrigerator for 30 minutes. Heat oil in deep fryer, fry the corn sticks until golden brown. Drain on paper towel to remove excess oil and serve.
---
Share this Product
---
More from this collection
Liquid error (layout/theme line 443): Could not find asset snippets/spurit_uev-theme-snippet.liquid