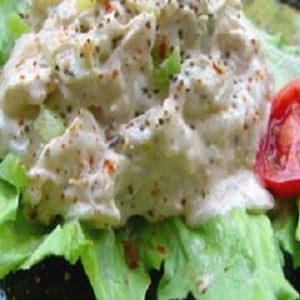 ---
Ingredients:
1 lb crabmeat, fresh
1 tbsp Italian dressing
Seasoning, to taste
1/2 cup mayonnaise 
1/4 cup red pepper, diced
1/4 cup celery, diced
1 small spring onion, minced
1/4 tsp celery seed
1/8 tsp dry mustard
1/8 tsp garlic powder
1 dash Tabasco sauce
Procedure:
Marinate crabmeat with Italian dressing for about 1 hour. Mix all other ingredients in a medium bowl thoroughly. Add crab meat mixture to mayonnaise mixture and mix with spatula, trying not to break up pieces. Refrigerate and serve.
---
Share this Product
---
More from this collection
Liquid error (layout/theme line 443): Could not find asset snippets/spurit_uev-theme-snippet.liquid