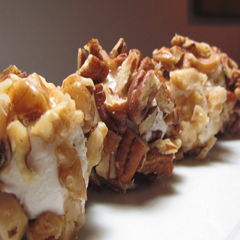 Cream cheese balls wrapped in toasted hazelnuts Recipe
---
Ingredients:
1 1/2 bar of cream cheese
1/2 tsp vanilla
1 tbsp cinnamon
1 tsp nutmeg
1/4 cup powdered sugar
1 cup toasted hazelnuts
Procedure:
Place the cream cheese in a container and leave to temperature for 45 min. Then add the vanilla, cinnamon, nutmeg, sugar and mix well. And refrigerator for 30 min. Once the cheese has hardened using your hands in a circular way create small balls. Pass the balls over the roasted nuts until well covered.
---
Share this Product
---
More from this collection
Liquid error (layout/theme line 443): Could not find asset snippets/spurit_uev-theme-snippet.liquid