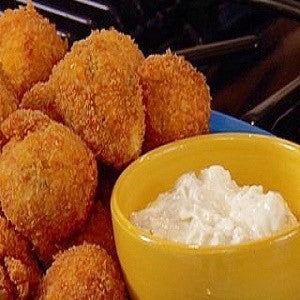 Fried Cheese, Queso Frito Recipe
---
Ingredients:
1 cup grated mild cheese
2 tsp flour 
1/4 tsp salt 
1/8 tsp cayenne pepper 
2 egg whites, stiffly beaten 
3/4 cup fine cracker crumbs
1/2 vegetable oil
Procedure:
Combine the cheese, flour, salt, and cayenne pepper. Using your hands, gently stir in the egg whites. Pat the mixture into small balls and roll them in cracker crumbs until thoroughly coated. Heat the oil in a skillet and cook over medium-high heat, turning so all sides become golden brown. Drain on paper towels. Serve hot or cold.
---
Share this Product
---
More from this collection
Liquid error (layout/theme line 443): Could not find asset snippets/spurit_uev-theme-snippet.liquid