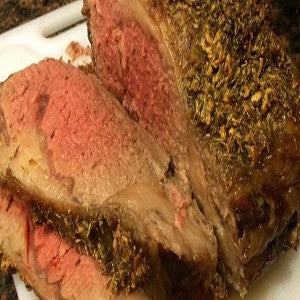 Garlic Prime Rib, Prime Rib con Ajo Recipe
---
Ingredients:
1 (10 pound) prime rib roast

10 cloves garlic, minced

2 tbsp olive oil

2 tsp salt

2 tsp ground black pepper

2 tsp dried thyme
Procedure:

Place the roast in a roasting pan with the fatty side up. In a small bowl, mix together the garlic, olive oil, salt, pepper and thyme. Spread the mixture over the fatty layer of the roast, and let the roast sit out until it is at room temperature, no longer than 1 hour. Preheat the oven to 500 degrees F. Bake the roast for 20 minutes in the preheated oven, then reduce the temperature to 325 degrees F, and continue roasting for an additional 60 to 75 minutes. The internal temperature of the roast should be at 135 degrees F  for medium rare. Allow the roast to rest for 10 or 15 minutes before carving so the meat can retain its juices.
---
Share this Product
---
More from this collection
Liquid error (layout/theme line 443): Could not find asset snippets/spurit_uev-theme-snippet.liquid