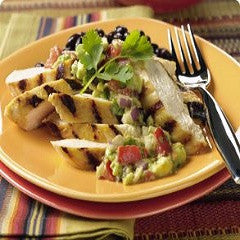 Grilled Lime Chicken with Avocado Salsa Recipe
---
Ingredients:
4 chicken breasts
2 tbsp lime juice
1 tbsp olive oil
2 tsp salt
2 avocados, diced or mashed
1 tomato, diced
1/4 red onion, finely diced
1 tbsp cilantro, chopped
Procedure:
In large glass baking dish, place chicken in single layer. Add lime juice, olive oil and salt, turn several times to coat well. In medium-sized serving bowl, combine avocados, tomato, red onion and salt to taste and mix thoroughly together. Add cilantro and stir. Set aside. Preheat grill to medium-high heat. Place chicken breasts on grill and cook about 3-4 minutes per side, or until done. Remove from heat, slice into strips and serve topped with avocado salsa.
---
Share this Product
---
More from this collection
Liquid error (layout/theme line 443): Could not find asset snippets/spurit_uev-theme-snippet.liquid