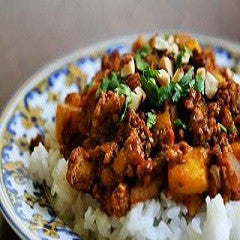 Ground Meat, Picadillo Recipe
---
Ingredients:
2 lb ground beef
2 tbsp olive oil
4 oz ham, diced small
Salt to taste
Pepper to taste
1 chopped medium onion
2 medium frying peppers, chopped
2 large tomatoes, peeled, chopped
4 sweets chilli peppers, minced
2 garlic cloves, minced
2 tbsp capers, minced
15 small pimiento stuffed green olives
1/4 tsp ground oregano
3/4 cup tomato sauce
Procedure:
Heat olive oil in a large skillet over medium-high heat and brown beef and ham. Season with the salt and pepper. Discard all but 2 tbsp of fat from the pan. Lower the heat to moderate low and saute the onion and frying pepper for 5 minutes. Add the tomato, sweet chilli pepers, garlic, capers, olives, oregano and tomato sauce. Cook, stirring, for some 5 minutes. Add the meat and ham mixture. Mix well and cook uncovered at moderate heat for 15 minutes. Stir occasionally. Serve with white rice.
---
Share this Product
---
More from this collection
Liquid error (layout/theme line 443): Could not find asset snippets/spurit_uev-theme-snippet.liquid