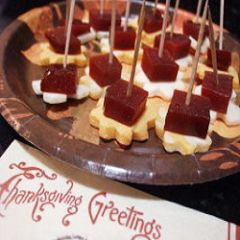 Guava and Chesse Appetizers Recipe
---
Ingredients:
22 oz can guava paste, cut into 1 inch cubes
16 oz pkg sharp cheddar cheese, cut into 1 inch cubes
20 toothpicks
Procedure:
Skewer one cube of the guava paste and one cube of cheddar cheese on a toothpick. Repeat with the remaining guava paste and cheddar cheese cubes. Refrigerate until serving time.
---
Share this Product
---
More from this collection
Liquid error (layout/theme line 443): Could not find asset snippets/spurit_uev-theme-snippet.liquid