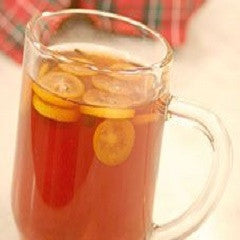 ---
Ingredients:
3 cups apple cider 
2 tbsp sugar 
3 cinnamon sticks 
2 star anise 
5 whole cloves 
Pinch aniseed 
1/4 cup fresh lemon juice 
3/4 cup golden rum
Lemon slices for garnish
Procedure:
Heat the cider, sugar, and spices in a nonreactive pan over low heat for 5 minutes. Strain through a sieve. Add the lemon juice and rum. Place a lemon slice in each serving cup before pouring in the hot punch.
---
Share this Product
---
More from this collection
Liquid error (layout/theme line 443): Could not find asset snippets/spurit_uev-theme-snippet.liquid