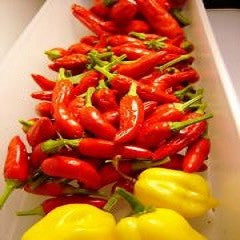 ---
Ingredients:
1 2/3 cups water

4oz pineapple rind and core

8 small red chilies (ajies caballeros)

4 garlic cloves in big slices

1tbsp black pepper in whole grains

1/2 tsp oregano leaves

1/8 tsp salt

16oz glass bottle with a tight cover 

1 glass bowl
Procedure:
Place the pineapple rinds and core in a glass bowl. Heat water just to boiling and pour into bowl. Allow the pineapple mixture to ferment during at least 24 hours. You can tell when the mixture has fermented by a tangy smell and taste. Drop all ingredients included above into the 16 oz glass bottle. Strain the pineapple mixture and pour into the bottle. Cover the bottle tightly and let it ferment for about five days. After fermenting, keep in the refrigerator.

---
Share this Product
---
More from this collection
Liquid error (layout/theme line 443): Could not find asset snippets/spurit_uev-theme-snippet.liquid