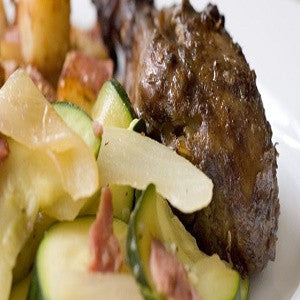 ---
Ingredients:
6 green onions, chopped

1 onion, chopped

1 jalapeno pepper, seeded and minced

3/4 cup soy sauce

1/2 cup white vinegar

1/4 cup vegetable oil

2 tbsp brown sugar

1 tbsp chopped fresh thyme

1/2 tsp ground cloves

1/2 tsp ground nutmeg

1/2 tsp ground allspice

1 1/2 pounds skinless, boneless chicken breast halves
Procedure:

In a food processor or blender, combine the green onions, onion, jalapeno pepper, soy sauce, vinegar, vegetable oil, brown sugar, thyme, cloves, nutmeg and allspice. Mix for about 15 seconds. 
Place the chicken in a medium bowl, and coat with the marinade. Refrigerate for 4 to 6 hours, or overnight. Preheat grill for high heat. Lightly oil grill grate. Cook chicken until juices run clear and its completly done.
---
Share this Product
---
More from this collection
Liquid error (layout/theme line 443): Could not find asset snippets/spurit_uev-theme-snippet.liquid