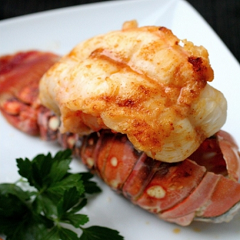 Lobster in Garlic Sauce Recipe
---
Ingredients:
2 lobster tails

3 tbsp olive oil

1 tbsp tomato paste

Paprika to taste
4 cloves garlic
1/2 onion in small squares
2 bay leaves

1/4 cup white wine

1 cup fish broth

1/4 cup cream

Salt to taste

 Pepper to taste

 Fresh herbs to taste
Procedure:
Season the lobster tails with salt and pepper and cook them in a saucepan with boiling salted water for 8-10 min, then chill quickly in a container with ice water. In a saucepan with a little olive oil stir the tomato paste, paprika, garlic, onion and bay leaf, then add the white wine and the broth, boil the preparation for 20 min. Add the cream  and fresh herbs and reduce until thick. Remove the meat from the lobster tail and cut into wheels and heat in the sauce for 3 min.
---
Share this Product
---
More from this collection
Liquid error (layout/theme line 443): Could not find asset snippets/spurit_uev-theme-snippet.liquid