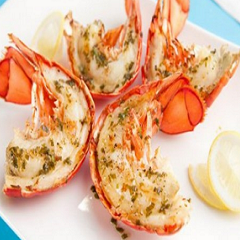 Lobster with Island Mojito Recipe
---
Ingredients:
2 whole lobsters

3 tbsp olive oil

8 sliced ​​onions

Salt to taste

Pepper to taste

1/2 cup cider vinegar

3 tbsp ground garlic 

5 bay leaves

12 grains of pepper

3 cups tomato sauce

Fresh recao to taste

Lemon to taste
Procedure:
Cook lobsters in boiling salted water for 10 minutes and cool immediately in cold water with ice. Clean them and remove the meat, cut into cubes. For mojito in a saucepan with olive oil sauté the onions over medium heat, season with salt and pepper to taste. Saute for 4 minutes and add the vinegar, continue to suffer for 3 minutes more and add the garlic, bay leaf, pepper and tomato sauce. Cook over medium heat for 35 minutes. Finish with finish and lemon. Serve over the lobster.
---
Share this Product
---
More from this collection
Liquid error (layout/theme line 443): Could not find asset snippets/spurit_uev-theme-snippet.liquid