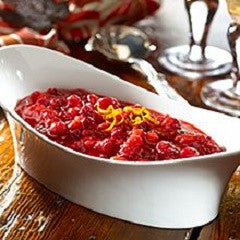 Mango Cranberry Sauce Recipe
---
Ingredients:
12oz cranberries

14oz mango pulp

2/3 cups sugar

1/3 cup orange juice

1 tsp orange zest

1/3 cup water

1/2" fresh ginger, peeled and finely chopped

1/4 tsp salt

1/8 tsp ground cinnamon
Procedure:
Add cranberries, mango pulp, sugar, orange juice, orange zest, water, ginger, salt and cinnamon to medium saucepan over medium heat. Bring cranberry mixture to boil, stirring to combine. Reduce heat to low. Simmer, stirring occasionally, until cranberries have popped and mixture has thickened slightly, about 10 minutes. Transfer sauce to a bowl, and refrigerate.

---
Share this Product
---
More from this collection
Liquid error (layout/theme line 443): Could not find asset snippets/spurit_uev-theme-snippet.liquid