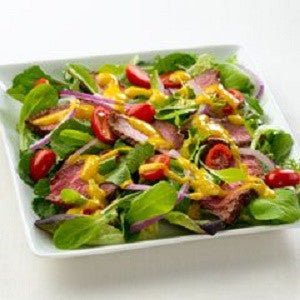 Mango Steak Salad, Ensalada de Steak y Mango Recipe
---
Ingredients:
1 cup thinly sliced red onion
1 Knorr parsley minicube
1 cup torn mint leaves
1/4 cup olive oil
1/2 cup  mango chunks
2 tbsp lime juice
1 tbsp beef flavor bouillon 
1 lb skirt steak
6 cups salad greens
1 cup halved cherry tomatoes
Procedure:
In a food processsor blend 1/2 cup of the onions, parsley mini cube and mint leaves. Add olive oil, mango and lime juice and pulse until combined. Pour 1/2 cup of the mint sauce into a large resealable plastic bag with the beef flavor bouillon and steak. Close bag and marinade for 30 minutes in refrigerator. Remove steak from marinade, discarding marinade. Grill or broil steak until desired doneness, turning once. Arrange greens, tomatoes and remaining onions on a serving platter, then top with thinly sliced steak. Drizzle with remaining mint sauce.
---
Share this Product
---
More from this collection
Liquid error (layout/theme line 443): Could not find asset snippets/spurit_uev-theme-snippet.liquid