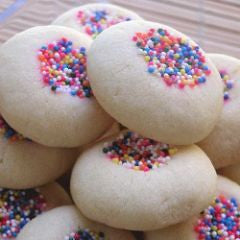 ---
Ingredients:
1 cup shortening
2 tbsp butter
1 1/2 tsp grated lemon peel
1 tsp vanilla extract
1 tsp anise seed
1/2 tsp salt
1 1/4 cups sugar
2 small eggs
2 cups flour
Procedure:
Blend together shortening, butter, lemon peel, vanilla, anise and salt. Gradually add sugar and beat until fluffy. Gradually add the eggs and the flour and stir until all ingredients are mixed together. Chill dough. Roll dought into 1-inch balls. Place on lightly greased cooking sheet, 1 1/2" apart. Bake in preheated 350-degree oven for 8-10 minutes or until lightly browned around the edges.
---
Share this Product
---
More from this collection
Liquid error (layout/theme line 443): Could not find asset snippets/spurit_uev-theme-snippet.liquid