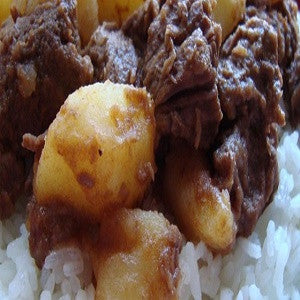 Meat with Potatoes, Carne con Papas Recipe
---
Ingredients:
1/2 green bell pepper, seeded and chopped

1/2 small white onion, chopped

3 cloves garlic, crushed

1/4 tsp ground cumin

1/4 tsp salt, divided

1/8 cup olive oil

1 tbsp olive oil

2 tbsp achiote powder

1 tsp ground cumin

2 (8oz) cans tomato sauce

2 lb beef stew meat, cut into 1 inch cubes

2 white potatoes

1 cup white wine

4 cups water

6 cubes beef bouillon
Procedure:
In a blender, combine green pepper, onion, garlic, cumin and salt. Pulse, while pouring 1/8 cup olive oil. Blend until smooth, set aside. Heat 1 tbsp olive oil in pressure cooker on medium heat. Saute green pepper mixture for 1 minute, then stir in achiote powder and cumin. Cook for 1 minute, then stir in tomato sauce. Return to a simmer, then add beef, let simmer for 5 minutes. Stir in potatoes, then pour in wine and water. Drop in the bouillon cubes. Bring to a boil, return to simmer an cover with lid of pressure cooker. Cook for about 30 to 45 minutes.
---
Share this Product
---
More from this collection
Liquid error (layout/theme line 443): Could not find asset snippets/spurit_uev-theme-snippet.liquid