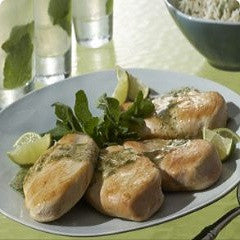 ---
Ingredients:
4 chicken breasts
3oz frozen limonade concentrate
1/2 cup chicken broth
1/2 cup coarsely chopped mint
1 tbsp cornstarch
2 tsp minced jalapeno pepper
Peppet to taste
4 garlic cloves, minced
1/4 tsp ground cumin
Lime slices and fresh mint to garnish
Procedure:
Cook chicken in large skillet. Remove chicken to a platter; cover and keep warm. In a blender, combine limonade concentrate, chicken broth, mint, cornstarch, jalapeno pepper, garlic and cumin. Blend on high for 30 seconds. Pour mixture into skillet containing chicken pan juices. Increase heat to medium-high. Bring to a boil while stirring and boil until thickened, about 1 minute. Pour lime sauce over chicken breasts. Serve over white rice.
---
Share this Product
---
More from this collection
Liquid error (layout/theme line 443): Could not find asset snippets/spurit_uev-theme-snippet.liquid