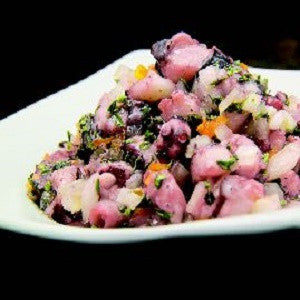 Octopus Salad, Ensalada de Pulpo Recipe
---
Ingredients:
3 1/2  precooked octopus 
4 bay leaves 
1/2 tbsp black peppercorns
2 sprigs cilantro 
1 tsp salt 
1/4 cup raspberry vinegar
3/4 cup olive oil 
1/2 cup manzanilla olives
1/2 medium red onion, finely chopped
black pepper to taste
Procedure:
In a large pot combine the octopus, bay leaves, peppercorns, cilantro, and water to cover, and bring to a boil. Reduce the heat and simmer for 1 hour. Drain and cool. 
Whisk the remaining ingredients in a bowl. Add to the cooked octopus and refrigerate overnight.
---
Share this Product
---
More from this collection
Liquid error (layout/theme line 443): Could not find asset snippets/spurit_uev-theme-snippet.liquid