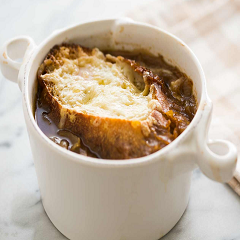 Onion Soup, Sopa de Cebolla Recipe
---
Ingredients:
3 tbsp olive oil
2 tbsp butter
3 large onion thinly sliced
Salt to taste
Pepper to taste
Sugar to taste
1 tbsp ground garlic
4 cups chicken broth
6 slices of bread
2 cups grated swiss cheese
Procedure:
In a saucepan with olive oil and butter, sauté the sliced ​​onion, season with salt, pepper and sugar to taste, sauté over medium heat, mixing constantly until the color becomes brown caramel (approx 45 minutes) finish with garlic. Pour broth over onions and boil for 10-12 minutes. Cut the bread the size of your serving and roast in the oven until crisp, once the soup is ready, season and serve, place the bread and grated cheese on top. Place the soup in broil to melt and gratin the cheese.
---
Share this Product
---
More from this collection
Liquid error (layout/theme line 443): Could not find asset snippets/spurit_uev-theme-snippet.liquid