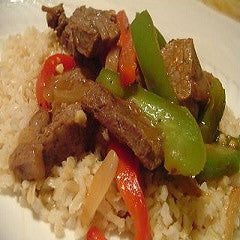 ---
Ingredients:
1 lb sirloin steak, cut into thin strips
2 tbsp olive oil
1 medium red pepper, sliced
1 medium green pepper, sliced
1 large onion, sliced
1 tsp finely chopped seeded jalapeno pepper
1 1/2 cups water
1 tbsp lime juice
1 pkg brown gravy mix
1/2 knorr cilantro cube
Procedure:
Heat olive oil in a large skillet over medium-high heat and brown beef. Remove beef and set aside. Add peppers, onion and jalapeno pepper and cook until vegetables are tender, about 5 minutes. Stir in water, lime juice and brown gravy mix. Bring to a boil, stirring frequently. Reduce heat and simmer until sauce is thickened, about 3 minutes. Stir in beef and cilantro. Serve over white rice.
---
Share this Product
---
More from this collection
Liquid error (layout/theme line 443): Could not find asset snippets/spurit_uev-theme-snippet.liquid