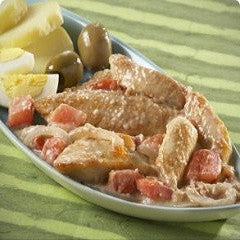 ---
Ingredients:
4 Chicken Breasts (cut into strips)
5 slices white bread, crustless
1 1/4 cups chicken broth
1/4 cup vegetable oil
1 large onion, thinly sliced
2 cloves garlic, minced
2 frozen aji amarillo, seeded, deveined and finely chopped
2 large tomatoes, seeded and chopped
1 tsp salt
1/2 cup grated parmesan cheese
1/4 cup toasted ground walnuts
1/4 cup evaporated milk
4 cooked medium golden potatoes, cut in thick slices
8 pitted olives
2 hard boild eggs, cut into wedges
Procedure:
Soak bread in 1 cup of the broth. Let stand 5 minutes. Place in food processor or blender container and blend on high until creamy. Reserve. Heat oil in a large skillet on high heat. Cook chicken strips, turning occasionally to brown on all sides, 2 to 3 minutes. Remove chicken from skillet and reserve. Add onion, garlic and aji in skillet and cook until onion is tender, 2 to 3 minutes. Stir in reserved bread and the tomatoes. Reduce heat and simmer 10 minutes. Mix in chicken, salt, 1/4 cup of the cheese, walnuts, milk and remaining broth. Simmer 3 to 4 minutes or until sauce is slightly thickened and the chicken is heated through. Serve with the potatoes, olives, eggs and sprinkled with remaining 1/4 cup grated cheese.
---
Share this Product
---
More from this collection
Liquid error (layout/theme line 443): Could not find asset snippets/spurit_uev-theme-snippet.liquid