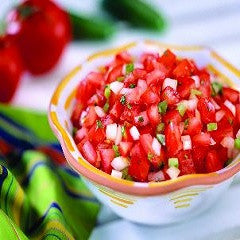 ---
Ingredients:
2 ripe tomatoes, chopped

3 jalapeño chiles, chopped

1 small onion, chopped

1 clove garlic. chopped

1/3 cup fresh cilantro, chopped

Lemon juice to taste

Salt to taste

Pepper to taste
Procedure:
Mix tomatoes, jalapeños, onion, garlic, and cilantro. Add salt, pepper, and lemon juice. Blend together in a shallow dish. Use as a hot dip or add to soups.

---
Share this Product
---
More from this collection
Liquid error (layout/theme line 443): Could not find asset snippets/spurit_uev-theme-snippet.liquid