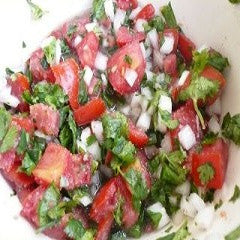 ---
Ingredients:
4 cups seeded and chopped tomatoes
3/4 cup finely chopped white onion
2 cloves garlic, minced
2 tbsp lime juice
1 knorr cilantro mini cubes, crumbled
1 to 2 chilies, seeded and finely chopped
Procedure:
Combine all ingredients in a bowl. Refrigerate about 2 hours. Garnish with cilantro sprigs and serve with tortilla chips.
---
Share this Product
---
More from this collection
Liquid error (layout/theme line 443): Could not find asset snippets/spurit_uev-theme-snippet.liquid