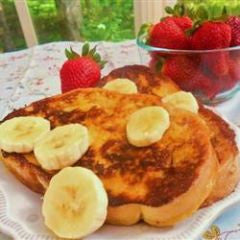 Piña Colada French Toast Recipe
---
Ingredients:
8 eggs
2/3 cup milk
1/2 cup pina colada drink mix
1 tbsp butter
12 (1/2in thick) slices french bread
2 bananas, sliced
Procedure:
Whisk together the eggs, milk, and pina colada mix in a bowl. Heat a skillet over medium heat and add butter. Soak the bread slices in the egg mixture, turning the slices over a couple of times. Gently lay the soaked bread slices into the hot skillet and pan-fry until the french toast is golden brown, about 2 minutes per side. Top each slice serving with banana slices.
---
Share this Product
---
More from this collection
Liquid error (layout/theme line 443): Could not find asset snippets/spurit_uev-theme-snippet.liquid