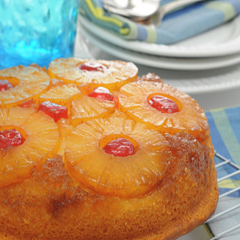 ---
Ingredients:
1/2 cup butter
1/2 cup brown sugar
1 sliced ​​pineapple
1/4 cup dark rum
1/2 cup cream
Cake
2 cups all-purpose flour
3/4 tsp baking powder
1/2 tsp baking soda
3/4 cup butter cream
1 1/3 cup sugar
3 separate eggs
Pinch of salt
1/4 cup pineapple juice
1/2 cup evaporated milk
1 tsp vanilla extract
Procedure:
In a skillet melt the butter and add the brown sugar, cook for 3 min. Then add the pineapple and cook for 3 min. Add the rum, cream and let cook for 2 min. Remove from heat and let cool. Grease a mold and line up with waxed paper, place the sliced ​​pineapple in the pan and place the sauce on top of them, let cool. Sift the dry ingredients, in a container mix the butter cream and sugar until it is well creamed then add the egg yolks one at a time, and then add the juice, evaporated milk and vanilla. In another container whisk the egg whites until they are firm and mix with the mixture. Place in the pan over the pineapple and bake at 350 degrees for 45 min.
---
Share this Product
---
More from this collection
Liquid error (layout/theme line 443): Could not find asset snippets/spurit_uev-theme-snippet.liquid