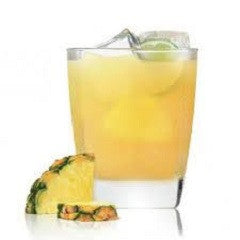 ---
Ingredients:
2 1/2 cups fresh pineapple
1 1/2 cups white rum 
1 1/2 cups golden rum 
1 tsp vanilla extract
1/2 cup sugar syrup
Procedure:
Combine the pineapple, rums, and vanilla in a tight seal glass jar. Cover and set aside in a dark place (inside a kitchen cabinet, for instance) for 3 weeks, stir the mixture every 3 days. Drain, reserving the liquid. Puree the pineapple in a blender. Pass through a sieve lined with a coffee filter. Discard the pulp. Combine the remaining liquid and the rum-vanilla liquid with the sugar syrup. Pour into a glass jar.
---
Share this Product
---
More from this collection
Liquid error (layout/theme line 443): Could not find asset snippets/spurit_uev-theme-snippet.liquid