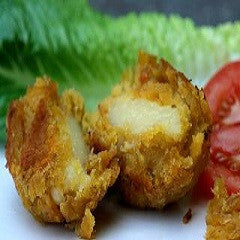 Plantain Dumplings Recipe
---
Ingredients:
1 large green plantain, peeled and shredded
10 cups chicken stock 
1/2 tbsp salt 
1/2 tbsp pepper
Procedure:
Form dumplings from 1/2 tablespoon of shredded plantain and set aside. Bring the chicken broth to a boil in a large pot. Add the salt, pepper. Add dumplings and reduce to medium-low and cook for 15 minutes.
---
Share this Product
---
More from this collection
Liquid error (layout/theme line 443): Could not find asset snippets/spurit_uev-theme-snippet.liquid