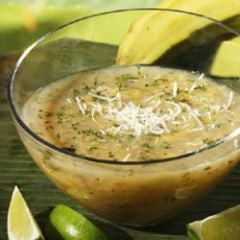 Plantain Soup, Sopa de Platanos Recipe
---
Ingredients:
2 green plantains

salt

4 tbsp vegetable oil

6 cups beef stock

grated parmesan cheese
Procedure:
Peel the plantains and cut into 1/2 inch slices. Soak in cold salted water for 20 minutes. Dry and pat dry with paper towels. Heat the oil in a heavy frying pan and saute the plantain slices until they are tender (about 15 minutes). Remove and drain on paper towels. Crush in a mortar so they break into bits. Heat the beef stock in a saucepan and add the plantain chips. Simmer for 15 minutes. Sprinkle with cheese and serve.

---
Share this Product
---
More from this collection
Liquid error (layout/theme line 443): Could not find asset snippets/spurit_uev-theme-snippet.liquid