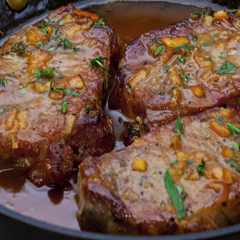 Pork Medallions with Apple Sauce Recipe
---
Ingredients:
4 pork medallions
Salt to taste
Pepper to taste
Garlic powder to taste
Cayenne pepper to taste
3 tbsp olive oil
2 tbsp butter
1/2 cup brown sugar
1 sliced ​​green apple
1 cup milk cream
Cinnamon to taste
Procedure:
Season the pork medallions with salt, pepper, garlic, cayenne pepper and cook in a frying pan with olive oil for approx. 3 minutes per side and finish cooking in the oven for 15-18 minutes more. In a saucepan melt the butter and sugar until caramelized, then add the apples and mix and then the cream and cinnamon and let it boil gently for 15 minutes. Pour the mixture over the medallions.
---
Share this Product
---
More from this collection
Liquid error (layout/theme line 443): Could not find asset snippets/spurit_uev-theme-snippet.liquid